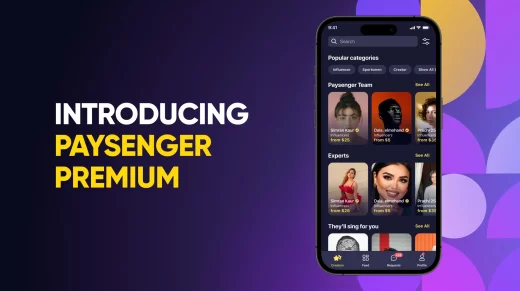 Paysenger Premium is here and it's our first-ever paid offering. But how does Paysenger's subscription work? This article will cover everything you need to know!
We've been hearing feedback from our users and we've finally started adding premium features for power users of our platform. With a premium subscription, we aim to give users who use Paysenger the most additional support and perks to take their earnings and growth levels to the next level!
For those who are doing just fine with the free version, don't worry, the original Paysenger experience is here to stay. You can still start a Paysenger account for free and use all of its features. The premium subscription simply gives advanced features to certain users and will not affect the free version of Paysenger.
With that being said, let's take a look at what Paysenger Premium has in store for you.
Say Hello to Paysenger Premium 👋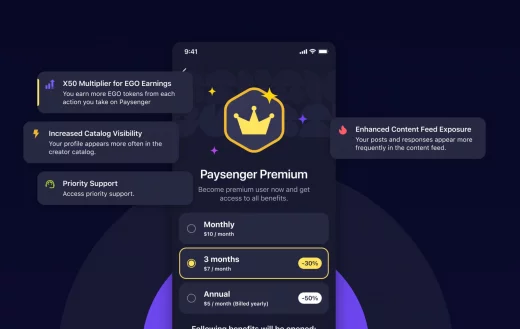 Paysenger Premium is rolling out to all users worldwide. We launched the first phase to test new features to see what will make the overall experience much more fulfilling and beneficial to creators.
Those who get Paysenger Premium, will get access to the following features:
0% Service Fee!
For the first time ever in subscription and monetization platforms, creators on Paysenger can now keep 100% of their earnings without paying any fees to the platform.
We truly want to make a one-size-fits-all monetization platform for creators that allows you to maximize your earnings. Most platforms charge 5% to 30% whenever you make a withdrawal and make it especially hard for new creators to increase their revenue.
We wanted to make sure Paysenger is a safe space for small to medium size creators who face intense competition on popular platforms.
X50 Multiplier on EGO Payouts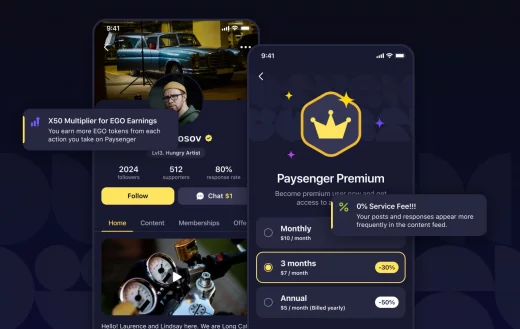 Premium users earn 50 times more EGO tokens than regular users. Our platform makes payouts using EGO tokens – the platform's default cryptocurrency. It can be exchanged for a currency of your choice (including USD, EUR, GBP, etc.) or traded on a reputable crypto exchange such as ByBit or KuCoin.
You earn EGO tokens for creating viral content, fulfilling requests, selling subscriptions, or engaging with other people's content on Paysenger. For premium subscribers, we are pleased to announce a 50 times multiplier on all EGO token earnings!
Increase Catalog Visibility
Want to send a lot more traffic to your Paysenger profile? Premium subscribers get a featured listing in our Top Creators catalog.
Without spending any extra money on promotion, instantly get more visitors, paying subscribers, and members. This is the quickest way to grow your social media following and build additional revenue sources.
Extra Exposure in Content Feeds
Get more likes, comments, and views whenever you post something new! Subscribers get much more exposure on Paysenger. This not only increases your chances of going viral but it also boosts your earning potential.
The highest paid creators on Paysenger are those who get the most views, likes, and reactions on their posts.
Automatic NFT Minting
We believe that every piece of content on the internet has monetary value. This includes photos, videos, memes, text posts, and even direct messages. One message from an influencer can make or break entire campaigns. So why not preserve the value using NFT technology? That's exactly what Paysenger Premium does.
Posts made by premium users automatically get minted into NFTs, which also get listed on Paysenger's NFT Marketplace. Your fans and sponsors can not only purchase a "stake" in your next post but can also get a share of monetization revenue once the post goes viral as an NFT. Additionally, you earn royalties each time the NFT gets traded or sold on the marketplace.
Essentially, anything you create on Paysenger is a digital asset that keeps paying you back in the long-term.
Who Should Get Paysenger Premium?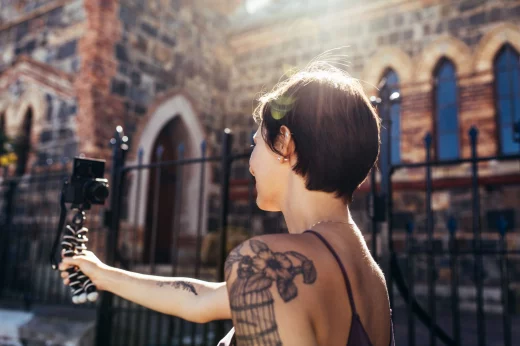 Paysenger Premium is for serious creators who want to get the absolute best monetization tools available to get a boost in their career. This is the fastest way to become an influencer by growing your fanbase, maximizing your earnings, and finding more sponsors to collaborate with.
Paysenger Premium gives you all monetization tools in one place, such as:
Memberships: Offer exclusive content to fans and loyal supporters in exchange for a recurring fee. This is an excellent way to create additional sources of income as a content creator.
On-demand content: Instead of asking everyone to commit to your recurring membership, offer people on-demand content for one-time payments. For example, offer shoutouts, tutorials, advice, and other special request videos for a one-off fee.
Collaborations: Collaborate with sponsors and other creators on paid projects that bring enormous revenue for you. Paysenger makes collaborations very simple by allowing anyone to find you or reach out to you (by paying a fee).
Benefits of Paysenger's New Subscription
Still wondering whether or not you should go premium? Here are a list of benefits you can get today by becoming a subscriber:
Increased earnings
Premium subscribers get a 50X multiplier on all types of income! The income boost is too big to ignore, so if you're serious about your career as a content creator, sign up for premium right now!
Why is income important? Most creators are told that "you shouldn't do it for the money" whenever they start their content creation journey on a new platform. But nothing could be further from the truth. While it's true that you should only become a content creator if you're truly passionate about it, money is also equally important.
Money allows you to invest in better equipment and spend more time on content creation. This increases the quality of your ideas and boosts the growth in your followers. So, never underestimate the amount of money you need in content creation. Join premium and earn 50X more!
Increased exposure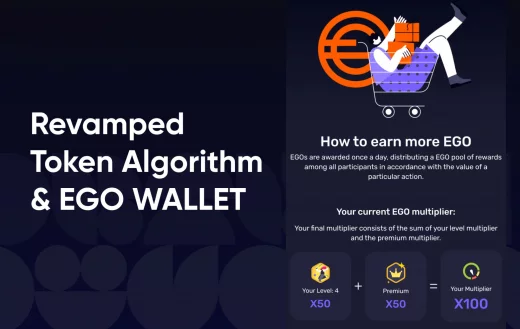 The only way to become a popular influencer is by attracting a huge community of loyal followers. Traditional social networks make it very difficult due to their complex algorithms and intense competition.
Premium subscribers on the other hand get extra exposure and can grow their following in a very short amount of time.
Priority support
We created Paysenger to support content creators achieve their dreams. By subscribing to premium, you allow us to offer high quality support services in helping you grow as an influencer. We not only feature your listing on our catalog but also help you increase your earnings and create additional revenue sources through one-on-one priority support.
We also include top creators on Paysenger in our marketing campaigns to put them into the spotlight. Imagine getting supported by an entire team of expert marketers and media specialists!
Conclusion
So, are you serious about your content creation journey? Now is the time to join Paysenger Premium!
Turn your social media hobby into a full-time business. Earn 50X more income, sell memberships, mint your content into NFTs to earn royalties, and do much, much more on Paysenger.
Wondering how much premium costs? Click on this link to find out.